Solar Foldable Camping Battery Charging Kits ( From 120 watt up to 300 watt ) Available in Solid and Flexible panels.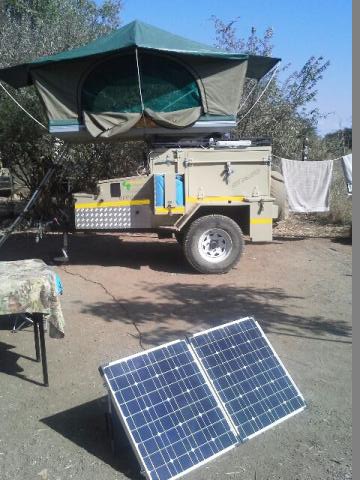 Portable Solar Foldable Camping Battery Charging Kits
Drive out and 4x4 campers and explorers enthusiasts will appreciate this compact highly efficient solar camping charger system, our kits is plug and play ready and come supplied with a highly efficient MPPT controller, 5 meter cable, legs to align solar panel and convenient carry bag. It will maintain your deep cycle batteries while camping.
Provide power for camping fridge ,freezers, lights, laptops, cell phones, TV`s, 12 volt inverters, etc.
Standard kit in 12 volt configuration, 24 volt configuration on request.
TBV Solar has the following kits available.
Click on link below for kit specifications and price, note delivery is not included in price, contact TBV Solar for a all inclusive quote.
.